A fund with a patchy track record, Kotak 50 has begun to strongly outshine its benchmark, Nifty, over the past year. We therefore decided to check the fund's performance to see what's changing.
True to its name, Kotak 50 holds around 45-50 stocks – at no point can the fund hold more than 59 stocks. While large-cap stocks (those with a market capitalisation of Rs. 12,000 core and above) dominate the portfolio, a minor exposure to mid-cap stocks is also taken.
On an annual rolling return basis over the past seven years, the fund has outdone the Nifty just about 55 per cent of the time. It has spent the 2012 and 2013 market cycles (a bull market and a sideways market) trailing the Nifty. While it did well in the 2011 downturn, the fund again lost in the 2009-10 heady bull run.
Choices hurt
Kotak 50 closely tracks the Nifty, with over 70 per cent of the portfolio belonging to this basket. This makes stock weightage the key in sustained outperformance. It is here that the fund has sometimes gone astray. Concentrated holding in the top five or ten stocks worsened the effect of wrong stock picks.
For much of 2013, for example, a portfolio heavyweight was Reliance Industries, which accounted for 7-9 per cent of Kotak 50's portfolio, but had a poor run on the market. Exposure to banking was built up to 30 per cent of the portfolio through the year, and 2013 was a bad year for banking stocks. It was a late entrant to the automobile sector rally. All this dampened the fund's returns even as it took otherwise sound calls on upping pharmaceutical and FMCG exposure.
In 2012, similarly, some poor choices put paid to a timed move into strong banking stocks. Increased holdings in software and petroleum sectors via stocks such as Reliance Industries and Infosys hurt. Meanwhile, the fund prematurely pared holdings in stocks such as Hindustan Unilever and ITC, both of which continued their spectacular rally right up to the end of 2013, and, in Hindustan Unilever's case, into 2014 as well.
Recent improvement
The fund has just begun steadily outperforming the Nifty since June last year. The fund manager changed in January 2014; it is now managed by Harish Krishnan. From a mid-quartile ranker in the three and five year periods, Kotak 50 broke into the top quartile of large-cap oriented funds in the one year period.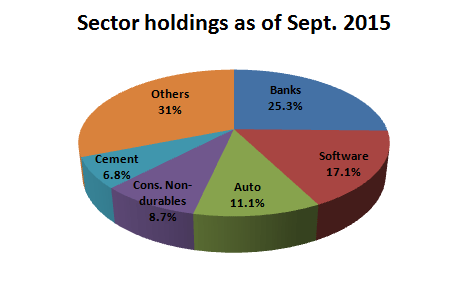 Raising holding in auto stocks, swapping around bank stock holdings by paring ICICI Bank, and increasing HDFC Bank and Axis Bank, for example, helped. Mid-cap picks such as Kajaria Ceramics and Jubilant FoodWorks also propped up performance. The fund has recently reduced bank sector holdings in light of the sector's troubles. Automobile is a portfolio heavyweight, while its cyclical play is through cement stocks and engineering conglomerate, Larsen & Toubro.
In the one, three and five-year time-frames, the fund has outperformed the Nifty by 3 to 11 percentage points. On a risk-adjusted basis, Kotak 50 is more or less on par with its category. But given its bumpy record, and a fund manager change in January 2014, a watch over its performance for the next few quarters can help gauge its ability to deliver consistently over the long term.
FundsIndia's Research team has, to the best of its ability, taken into account various factors – both quantitative measures and qualitative assessments, in an unbiased manner, while choosing the fund(s) mentioned above. However, they carry unknown risks and uncertainties linked to broad markets, as well as analysts' expectations about future events. They should not, therefore, be the sole basis of investment decisions. To know how to read our weekly fund reviews, please click here.
[fbcomments]