A lot of investors have been asking about where the Nifty is headed. Some have also expressed concerns about the weakening market sentiment across the globe in the past few trading sessions. It probably the right time to do a status check on the Nifty.
Regular readers of the our newsletter and attendees of our free weekly Market Outlook webinar would recall that we have been maintaining a bullish stance for a while now. Let's revisit the daily chart of the Nifty to understand what the underlying technical structure is.
Kindly direct your attention to the daily chart of the Nifty featured below. There an unmistakable sequence of higher highs and higher lows, which is the basic definition of a bullish trend.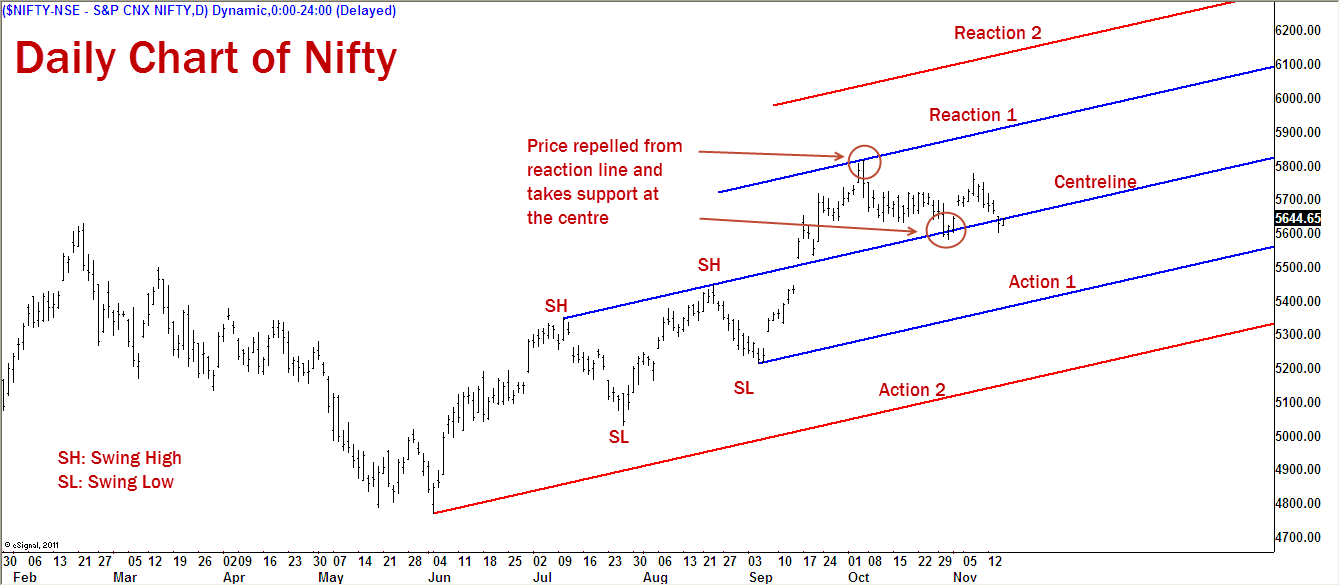 Also pay attention to the geometry behind the price action. We have discussed a lot about Action-Reaction lines in the prior posts. The same concept is highlighted in the chart above. Notice how price was repelled from the reaction line. Also of interest is the support being extended by the centreline.
We expect a rally to the upper red reaction line, the current value of which is 6,160. There would no reason to suspect the bullish trend until the Nifty breaks this sequence of higher highs and higher lows.
Unless the Nifty falls below the recent swing low at 5,215, there is no reason to suspect the bullish trend or the chances of a rally to 6,160.
The next question is, what are the likely sectors / stocks that could propel the Nifty higher. We favor high-beta, interest rate sensitive sectors such as banking, automobile and realty. The only problem with the realty sector is that one needs to be extremely choosy and careful in identifying the right portfolio candidates.
In the banking sector, we favor State Bank of India, IndusInd Bank, Union Bank, Corporation Bank and Axis Bank, to name a few. In the automobile space, names such as Mahindra & Mahindra, Martui Suzuki and Tata Motors come to mind readily.
We suggest investors adopt a SIP-kind of approach to investment in the above mentioned stocks. Watch this space for an in-depth individual stock recommendations.
Trade Safe and Don't Get Hurt.
[fbcomments]