Hindustan Unilever has been a laggard of late. Saying today that the stock is in a short-term downtrend is of no particular value, especially after a 10%+ fall in the last couple of trading sessions. We have maintained a bearish view on the FMCG index as well as on Hindustan Unilever. Regular readers of FundsIndia's weekly market newsletter and those who attend the FREE Weekly Webinar would recall that we have been making a bearish case for this index and Hindustan Unilever in particular.
Let's take a look at the technical set-up in the FMCG index and understand what caused us to turn bearish. Stock price typically tend to run out energy once they reach their destination. On rare occasions, they tend to overshoot their logical destination and this overshoot invariably compensated by an equal undershoot on the opposite direction. Simply put, as Sir Isaac Newton  said "For every action, there is an equal and opposite reaction".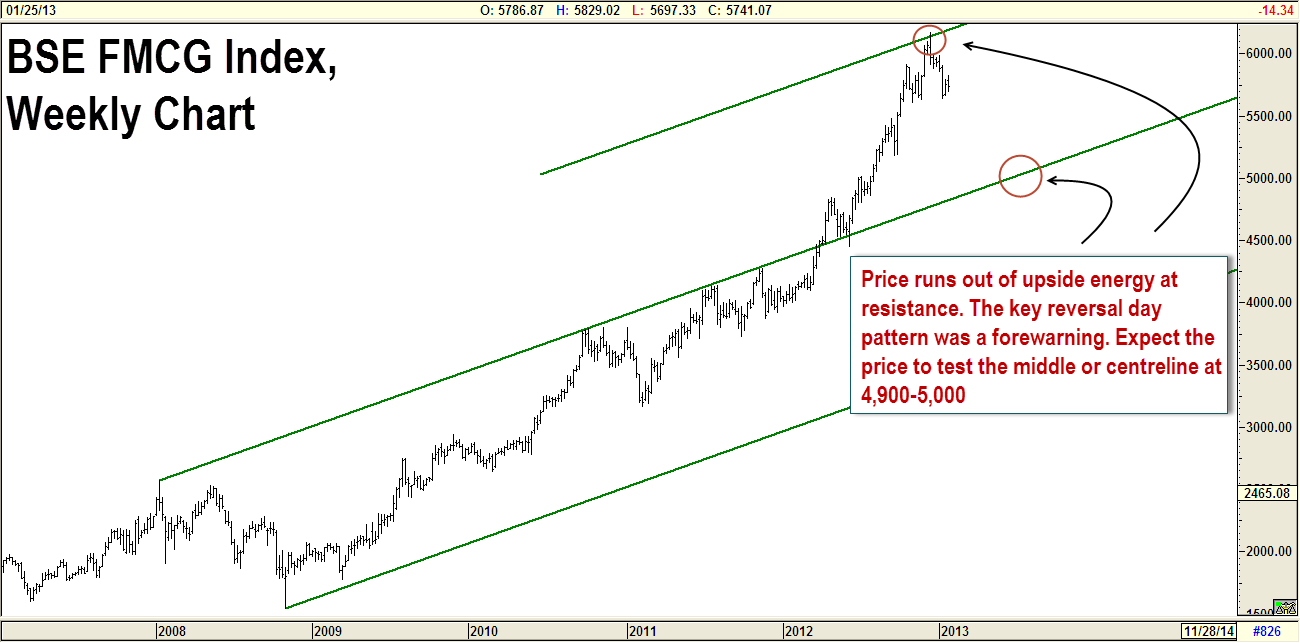 From the weekly chart of the BSE FMCG index featured above, it is apparent that the index has been in a steady uptrend for several years now. The rally took the price to its logical destination or resistance level, represented by the upper green trendline. The reversal bar formed right at the trendline, a few weeks ago, was an early confirmation or forewarning that the index may take a U-turn.
A fall below the latest swing low at 5,606 would confirm the trend reversal in the index and this would open up downside risk extending up to 4,900-5,000.
Those who swear by chart patterns would be excited by the Head & Shoulder pattern in the daily chart of Hindustan Unilever. And the ones who are oriented towards candlestick charts would notice the "Evening Star" reversal pattern in the monthly chart of Hindustan Unilever. What do these ominous signs convey? Our interpretation is that the stock could test its major support at Rs.400-410. We would reconsider this view if the stock moves past the resistance at Rs.520.
[fbcomments]