Setting up a Regular SIP
Systematic investment plan (SIP) is the most popular method of investing for retail investors. In this method of investing, an investor commits to investing a certain amount of money on one or more dates every month regardless of the market condition. For example, one could choose to invest Rs. 5000 every month on the 10th in the HDFC Equity (G) fund. In most cases, the money will get automatically debitted from the investor's account and invested in the fund on the particular date of the month.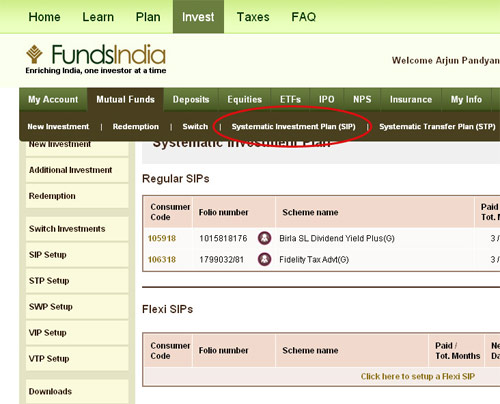 The advantage of investing in this manner is that it takes the market timing decision making out of the investor's hands. The investor does not have to think whether the market is high or low or whether it is a proper time to invest. Also, the regular investing instills a sense of discipline to the process. Due to these factors, the average cost of investing for the investments made tend to be lower than typical point in time investment methods. Also, it enables investors to invest small sums of money over a long period of time turning their monthly savings into productive investments.
At FundsIndia, we are big supporters of systematic investments, and we have created many services around this method of investing. Apart from the plain vanilla Regular SIP, we have variants like Flexi SIP, Alert SIP and Portfolio SIP that could suit the requirements of different types of investors. We also have advanced techniques such as Value averaging investment methods.
In this article, we will see how to set up a regular SIP and look at its details.
Regular SIP
Description
This is the simplest form of SIP - the investor chooses one or more schemes, an amount per scheme, and a date for monthly debit. Once setup, the monthly debits commence and the investments start into the selected schemes.
Advantages
The advantage of this form of SIP is its simplicity. It is easy to setup, easy to start off and needs zero maintenance during its run. It is best suited for investors who are just starting off with Mutual fund investing.
When to use
The Regular SIP is best used by first time investors to get started with MF investing. It removes the anxiety of market based decision making, while being low maintenance during the course of its execution. Also, this should be used when no changes can or need to be made on a monthly basis to the amount that gets invested. Since this form of SIP involves an ECS mandate, it can be used only when the bank account used for SIP investments is supported for ECS debits.
How to setup
Setting up a Regular SIP in FundsIndia is very simple. If you are looking to setup a regular SIP in FundsIndia, please follow these steps:

1. Login to your account, and click on 'Mutual funds' from the top bar
2. Select 'SIP setup' from the left menu
3. Click on 'Add a SIP' on the Regular SIP section
4. In the next page, first, you will be asked to select the investor whose name the folio will be on.
5. After that, you can select the number of installments for this SIP - this refers to the number of months the SIP is scheduled to run. Typically investors choose anywhere between 12 months (1 year) to 120 months (10 years). You will also be asked to specify the bank account to use for the debits.
6. Then you can choose one or more schemes and the amount of money per month you want to invest in each of these schemes. You can also specify the monthly date of investment for each of these schemes.
7. At this time, you can choose to make an initial payment for this investment or not. If you choose to make an initial payment, in the next screen, you will be taken to your netbanking system to do so (please see note below for information about this initial payment). If you choose not to make an initial payment, your SIP setup will complete when you hit the 'Continue' button.
8. The next page will ask you to confirm the details of your SIP setup. Please verify the scheme(s), amounts and the date to confirm.
9. In this page, you can also choose whether you want FundsIndia to send you the ECS mandate form for your signature, or if you would like to send it yourself.
10. If you choose to send the form yourself (faster to process), you can select that option and hit 'Confirm'. Your ECS form will be generated and be made available in the 'Downloads' section of your account.
11. If you choose to request FundsIndia to send the form, we will do so at the end of the business day to your registered address.
12. That's it, the SIP setup in FundsIndia is complete!
Now, all you would need to do is simply sign the ECS mandate form and send it back to us for registration. You DO NOT require to get any banker signature in the form. We will take care of it. The registration process takes about 4 weeks to complete after we receive the signed mandate form from you. The SIP debits/investments will start immediately thereafter.
Note about initial payment: Some investors want their SIP to start immediately when they are setting it up. If you want to do so, you can choose to make an initial payment when you are setting up the SIP. If you make this initial payment, it will be counted as an installment in the SIP schedule. Also, this investment will be made as soon as possible - it will not wait for the next SIP date. For example, if the SIP date is specified as 15th of every month. The SIP is being setup on the 25th, and the investor chooses to make an initial payment. The investment for the initial payment will be made on the 25th (or the next business day if 25th is a holiday) itself, and will not wait till the 15th of next month.
Monthly Process
After the SIP is registered, and the schedule commences, there is very little to do for the investor on a monthly basis. The investor would just need to login on a monthly basis to ensure that the SIP debit and investments are taking place properly without any issues.